A Quiet Move into Africa…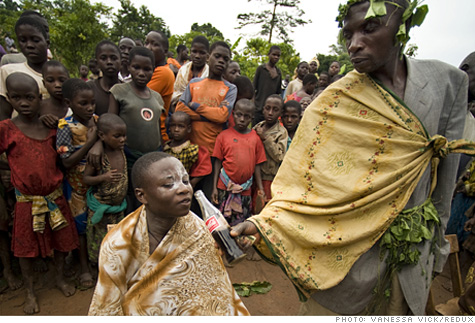 We had a great recent post about small farmer participation in formal and informal markets by Rajiv earlier this month. In thinking about how a large portion of small farmers can be integrated in regional and international food systems, the sheer size and scope of global retailers offers significant new opportunities for inclusion.
Connecting the dots: A quiet entrance into Africa
Earlier this fall, Walmart made a significant new pledge to support more small and local farmers. By investing in regional distribution and small farmer development in the US and more importantly, in emerging markets (NYT article), space seems to be opening up for research and work on sustainable, pro-poor supply chains.
While formal recognition from the government is still in negotiations, Walmart has essentially commenced the plunge into Africa. Their emergence into sub-Saharan African market comes with majority equity stake in a South African retailer that owns hundreds of stores in South Africa, Namibia, Swaziland, Mozambique and West Africa. (CNN)
Emerging markets are contributing significantly to Walmart's growth. Yet growth in emerging markets is unique; Walmart International saw over 100 billion in sales in 2009 come from emerging markets. This climbing portion of sales made up for significant slumps and declining growth rates in developed markets.
Sound familiar?
If history is any guide, Walmart entered Central America in 2005 in a similar, surreptitious fashion. In less than five years, they are the unchallenged grocery retail leader with substantial buying power. The growth was quick with little to almost no competition.
Why is this important?
Off the cuff, the following strike me as important for the development/research community to evaluate when looking at how a growing supermarket sector in Africa could function for poverty reduction and regional economic development:
1. Food access and nutrition. The move into Africa is long-sighted commitment (25 years to grow consumer demand!). They are attempting to increase regional consumption by capitalizing on the companies expert ability to get economies of scale by reaching out to large groups of consumers at low prices. What will be the impacts on human health and nutrition? Will this further solidify food access for a growing middle class, but create a widening gap for the poor?
2. Environmental management and corruption. What kinds of environmental standards are going to be utilized in terms of chemical/natural resource management on farms producing for global retailers? For countries that struggle with corruption, enforcement, or low confidence in institutions, will this fuel greater degradation? Alternatively, will the risks and responsibility of corporate involvment create better incentives for following rules and regulations?
3. Income. We all know that international market fluctuations (including high transaction costs and food safety into this) often decrease small farmers abilities to participate in global value chains. Does a focus on growing regional markets solve or complicate this all-too-familiar theme?
The future African farmers… who are they?
As a research entity with a mandate to understand the impacts of market opportunities on the agrarian poor, we're compelled to understand better how this amalgamation of buying power changes opportunities for income generation and market access. Africa is a diverse place, with a varying range of ecological zones and production possibilities. As Walmart and other retailers cultivate demand for super-market style shopping experiences, how will the landscape of small farmers change? Who will be farming these regions in 2020, 2030, and 2050? What will be their relationships to the land? Their strategies for farm ownership, rental or management?
Certainly we will continue to watch these trends. Yet more than that, we need partnerships that will allow us to measure and report changes, and strong institutional pressure from government to put into play policies that will curtail negative externalities. Little investigation has been done in Central America, not to mention Africa, in order to understand the impacts of a growing grocery sector on the incomes of small farmers and the nutrition of rural communities (with a big exception here). Less research has been done on environmental impacts on soil, air, and water.
If we care about generating a sustainable food system, richer discussion is needed between diciplines and across sectors. More than ever, moves by the private sector are changing the realities of agrarian communities, often with research entities struggling to keep up and stay relevent. At CIAT, we hope to continue to connect the dots between the expansion of the private sector into emerging economies while considering ways by which the public sector, including NGOs and research entities, can influence on behalf of the poor.
4 responses to: "Constructive Criticism: Learning Alliance Members Engage in Participatory Writing Workshop"